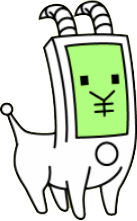 Name
Tableat
Goatpedia entry
It stared so much to a tablet game that turned itself into one. True story.
Location
Farm
Size
25ft
Produces
Poop
Coins per second (Offline)
60.5
Cost in Shop (First time)
64,000
Cost in Shop (First time)
3
# of baby goats needed
32
Note that the Tableat is only available after the Universe has been reset, as an alternative to the Eye of Provibex .